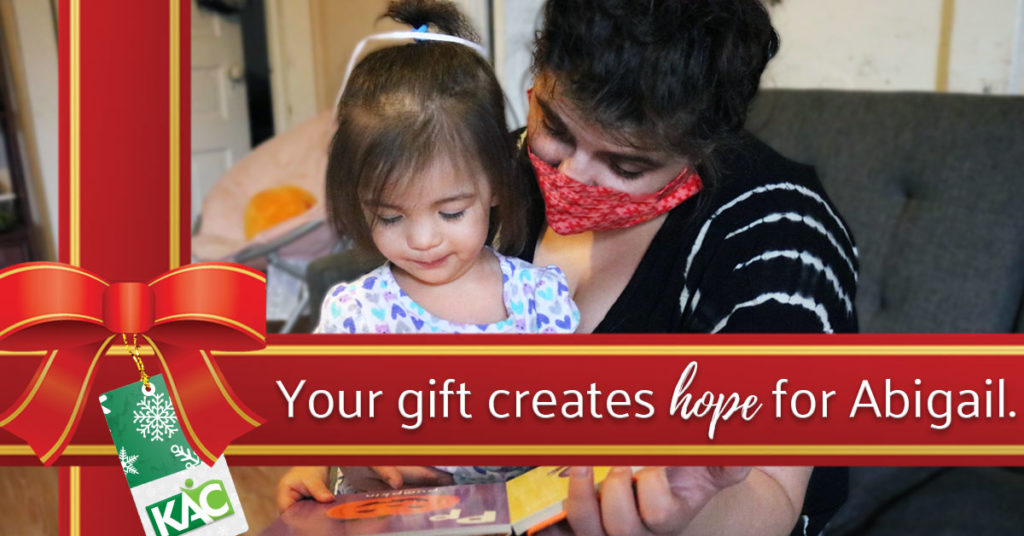 Meet KAC: Abigail & Brittney
The well-known proverb, "It takes a village to raise a child," expresses the value of community support in helping children to thrive in their environment. Our team at Kenosha Achievement Center (KAC) is proud to provide child development services to help support families in our community as they succeed together. 
Brittney connected with KAC's Early Head Start (EHS) team in April. She sought support in ensuring her child, Abigail, would be prepared for school. Today, we provide Brittney and Abigail with the child development services and resources they need to continue surpassing new milestones.
Abigail is almost two years old now. She has grown and learned so much since her first EHS home visit. At the beginning, Abigail was learning how to crawl. Her miniature army crawl, however, could only take her so far. Tips as simple as finding clothing and shoes that were comfy and had grip helped Abigail get started. Then it came to putting toys in front of her to motivate her. Holding her hips also encouraged her to use her knees. After a few visits, Abigail was on the move and up to speed in comparison to children her age.
 "It's so rewarding to see the little ones complete different activities with you," says Cruz Hernandez, EHS family advocate. "It really makes my day."
While our team comes prepared with new techniques and activities to explore, sometimes, the smallest ideas create the most fun. Plus, parents have more learning opportunities in their home than they might think. Something as simple as a box full of shredded paper makes for great sensory play!
For Abigail, the supplies Cruz brought over, helped foster an interest in crafts and art. Now, these projects are great activities for Abigail and Brittney to do together. Even just spending a little bit of time together to complete a craft can lend itself to a valuable learning experience. Gluing shapes or tracing words are great ways for children to practice their small motor skills.
Meeting at home, where the child feels comfortable, also allows us to discover new ways to use familiar items to grow. Brittney and Cruz have even started discussing incorporating dual language skills into Abigail's learning. When parents keep an open mind to what their child can learn, opportunities are almost limitless. From start to finish, each home visit is tailored to the child's abilities and interests for maximum success.
"I really like how Cruz is so invested in helping Abigail to learn," says Brittney, EHS parent. "You can only teach your child so much. It's nice to have an extra set of eyes and hands to provide insights and help you to learn new things."
At the end of each session, there's a chance to discuss the child's growth as well as any new skills or goals. This time is also spent to connect the family with any community resources, events and other opportunities that might be beneficial. Connecting with KAC is not just an opportunity to learn, it is an opportunity to get the support needed to thrive.
Your gift creates hope for Abigail.
Your gift ensures that children in our community can receive the support they need to learn beyond expectations  — today, and tomorrow.
This is the last Meet KAC Showcase for now! Check out KAC's blog to read stories from the Ciecko family, Sean and other KAC program participants. You can also visit us on Facebook to receive notifications when new stories are posted.
To make a donation today, please click here. Thank you.
When we stand together, we are #KACSTRONG.