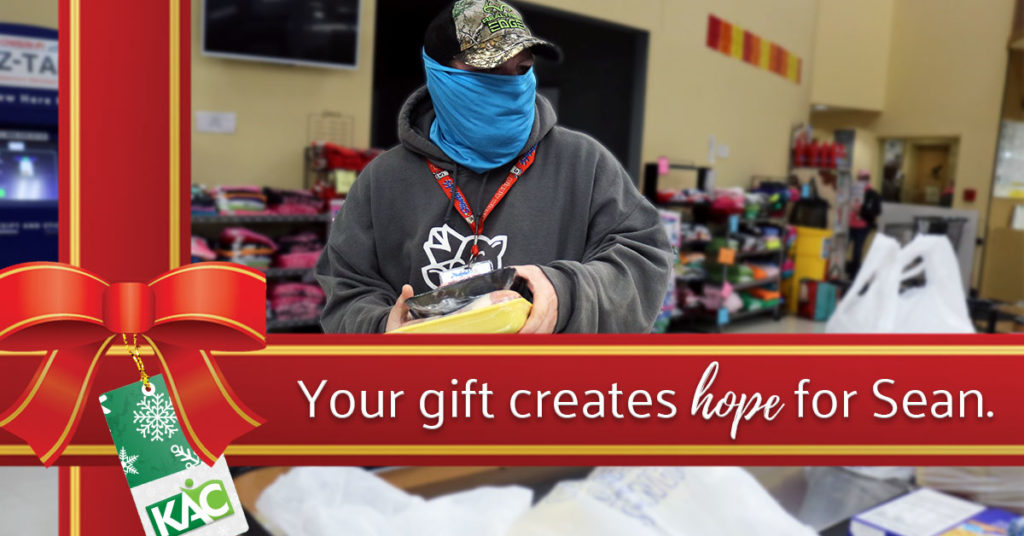 Meet KAC: Sean & Community Employment
Recently, the world has been talking a lot more about "Essential Workers." This term has been used to recognize the heroes that keep our world running, that provide stability and reliability in times of uncertainty and irregularity. Today, we introduce you to Sean, who works in our community's essential workforce.
Sean first came to Kenosha Achievement Center (KAC) for employment support via a referral from the Division of Vocational Rehabilitation (DVR) in April 2019. Sean had already worked janitorial at the Kenosha Moose Lodge for more than five years but was ready to take on a new employment opportunity in addition to his current position.
Sean began job searching through Supported Employment and was offered a DVR sponsored internship just six months later at Stinebrink's Piggly Wiggly. At the completion of his internship, he was offered a job to stay on the Piggly Wiggly team long-term. Sean happily accepted. Today, he keeps shoppers safe by disinfecting carts, cleaning the store, bagging groceries and helping customers from a distance.
At work, Sean enjoys socializing with his coworkers and making new friends while, of course, completing his assigned tasks. He also appreciates the convenience and accessibility of the store's location. He lives right across the street!
"Yeah, I like my job," says Sean, Piggly Wiggly associate and KAC Community Employment program participant. "I bag groceries, push carts, clear snow … I like everything about it! Plus, it gets me moving around some more."
The whole Piggly Wiggly team, from store managers to cashiers, recognize Sean for his positive attitude, reliability and willingness to always help out.
"Sean is always showing up and on time for his shifts," says Kelly, Piggly Wiggly assistant manager. "He is always helping. He is always getting the carts in. If there's a mess to clean up, he is always on top of it."
When Sean did want to request to switch shifts, KAC's employment specialists worked with him to make sure he understood what to do. KAC's Community Employment team not only helps individuals during their job search but also provides hands-on job training and coaching throughout employment.
"We talked about making sure to give notice when we're going to ask to take off work," says Michelle George, KAC community employment specialist. "He never takes off work though besides a couple times for the Special Olympics last year, so we had to work through that learning."
Another teachable moment came when Piggly Wiggly introduced a new shopping cart size. Having to pull in two different types of shopping carts calls for just a little more strategizing, and during busy shopping times, it can also be a little overwhelming. Michelle worked together with Sean, so he was best prepared to succeed — no matter how many carts were piled up outside.
Your gift creates hope for Sean.
Your gift ensures that adults with special needs in our community can receive the support they need to work independently — today, and tomorrow.
In the coming weeks, be sure to follow along right here on KAC's blog or visit us on Facebook to read more stories from our program participants and their families.
To make a donation today, please click here. Thank you.
When we stand together, we are #KACSTRONG.