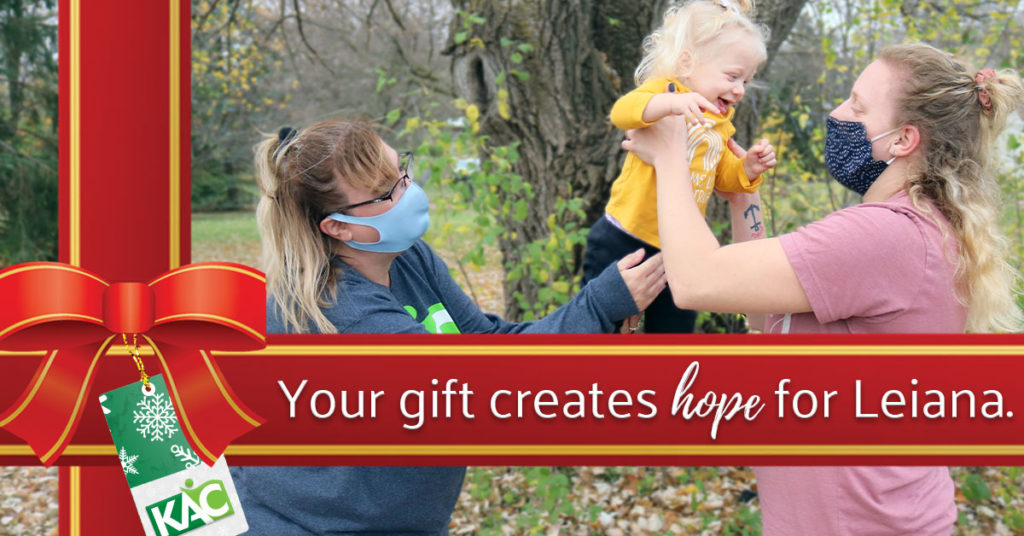 Meet KAC: Leiana & the Ciecko Family
Today, Leiana is 18-months old and learns, plays and explores new things every day. Her story, however, doesn't start there.
Leiana, daughter of Megan and Kenny Ciecko, was born two months prematurely. Premature births can sometimes lead to permanent challenges, so babies receive regular check-ups and/or intensive care to monitor their well-being. While it might have been a stressful beginning, during her time in the NICU, physical therapists and service coordinators from Kenosha Achievement Center's Early Intervention Program (EIP) visited with Leiana and her family to ensure her healthy development.
As new parents, Megan and Kenny never thought they would be asking themselves, "How can we get our child to eat?" Leiana was only consuming two ounces per feeding. The new parents quickly grew concerned that their sweet baby was not getting enough nutrients. Megan and Kenny then sought answers to many more questions they never imagined they'd have to ask.
Fortunately, KAC's team of specialists knew how to help. Our speech therapists worked with the Ciecko family for six months to teach the many different ways to use and manipulate a bottle. These new techniques helped their finicky eater become more receptive to bottle feeding. Together, the Ciecko family learned how even as a young infant, it's still important to know how to maintain healthy habits.
After monitoring Leiana's health and growth for a couple months without any further developmental concerns, the Ciecko family transitioned over to Early Head Start (EHS) services to continue on their path towards success together.
Currently, the Ciecko family receives weekly visits, either in-person or virtual, from their EHS family advocate. Visits include time to reflect on Leiana's development while introducing new ways for the entire family to learn and play together. Whether it be tactile play involving a sensory table and slime or just taking a moment to dance along to, "Baby Shark," there are many different ways our team works with Leiana and her family to ensure she will be ready for Kindergarten.
"I mean I do my loads of research on Pinterest trying to figure everything out, but then to have Julie come in and actually bring that stuff …" said Megan, EHS parent. "It's like, oh, I can see how fun this actually is for her. It has helped Leiana and has been fun for her to explore and have that interaction."
Megan also noted how helpful it is to have someone around to ask questions to, whether it be about child development, parenting or anything else that comes up.
"I tell all my families, just text me. I don't care what time of day it is," said Julie Alia-Colgrove, Early Head Start family advocate. "They can text me at 2 a.m., and I will get to it in the morning because if they don't do it right then and there, they might forget to ask."
Your gift creates hope for Leiana.
Your gift ensures that children in our community can receive the support they need for healthy development — today, and tomorrow.
In the coming weeks, be sure to follow along right here on KAC's blog or visit us on Facebook to read more stories from our program participants and their families.
To make a donation today, please click here. Thank you.
When we stand together, we are #KACSTRONG.