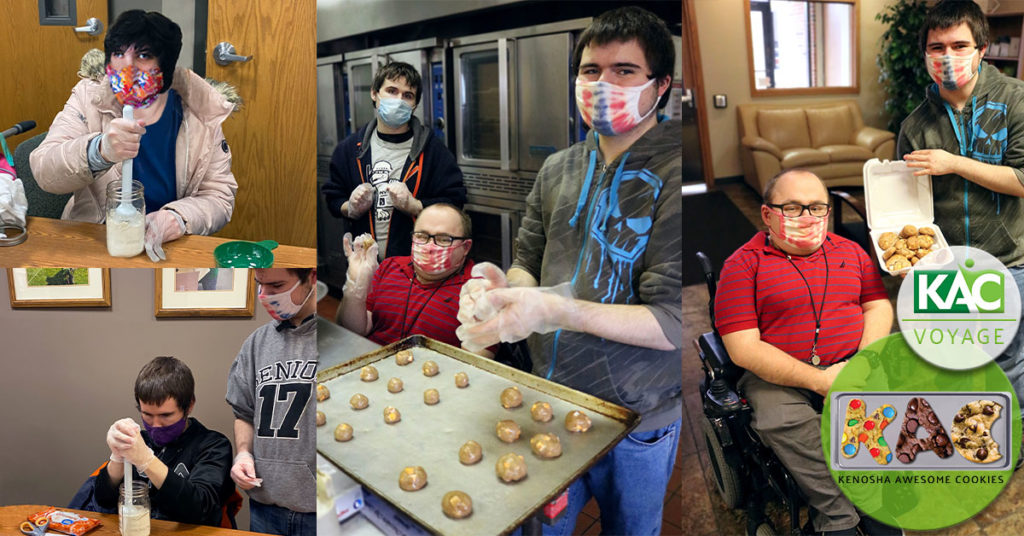 Satisfy your Sweet Tooth with Kenosha Awesome Cookies
Fresh-baked, warm and delicious cookies are the perfect sweet treat after a long, chilly day — or any day, really! That's why we're so excited to launch Kenosha Awesome Cookies. KAC's youth program, Voyage, is learning the highs and lows of starting a business by preparing and selling cookie baking kits. 
Cookie baking kits cost ten dollars and consist of one 32-ounce mason jar filled with the dry ingredients needed to make your favorite cookies. Four different flavors are regularly available, including:
Triple chocolate chip

White chocolate lemon

M&M 

Chocolate M&M 
Program participants voiced an interest in learning how to run a business. This idea fits nicely with one of the program's goals of increasing independence. KAC staff provided the support and resources needed to move forward with the idea. After excitedly brainstorming with the team, Kenosha Awesome Cookies was born. Program participants developed the business name and logo and insisted on baking and taste-testing each flavor to ensure quality. Now, they strategically plan their day to allow time to purchase supplies, assemble kits and fulfill orders.
Everyone is enjoying the opportunity to practice and develop new skills with the hope that they can make enough profit to support a group outing. With time and effort, we believe Kenosha Awesome Cookies will be able to stand as an independent business owned and operated by one or a group of its original founders. 
Place your order today!
Kenosha Awesome Cookies is ready for business! Purchase your cookie baking kit today for the perfect gift or just to satisfy your own sweet tooth. 
To complete a purchase, click here to download the official order form. Then, fill in your preferences and send it back to the Voyage Team at kenoawesomecookies@thekac.com. If you can't download the order form, don't worry. Just send us an email, and we will get back to you as soon as we can!
Please note, delivery is available to Kenosha addresses for an additional fee. Otherwise, cookie baking kits are available for pickup from KAC.
What is Voyage?
Voyage is an active day program for young adults with disabilities ages 18-26 years. The program goal is to increase independence through community involvement. Individuals actively participate in planning their day including making decisions about activities and outings. Participants develop life skills, enjoy social interaction with their peers, learn to navigate the community and explore recreational and volunteer activities.
What's your favorite type of cookie? Share it with us on Facebook or in the comments below!