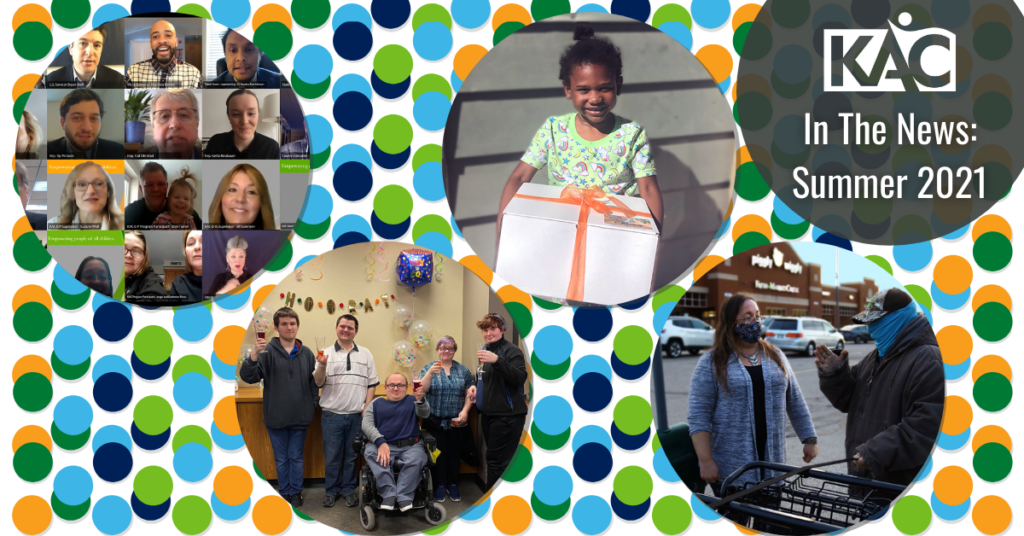 KAC In The News: Summer 2021
Virtual programming, increased safety measures, drive-thru events and grocery delivery assistance are only a few of the ways KAC stood strong to support adults and children with special needs in 2020. While navigating these new challenges, the importance of a strong, supportive community became even more significant. With our donors, volunteers, and participating families sticking by our side, in fact, we have already accomplished so much this year! Here's a closer look at KAC's recent milestones. Follow along then click the links below to read, and, in some cases, watch our most newsworthy moments.
Annual Legislators' Breakfast Sparks Vital Conversations
KAC's 2021 Legislators' Breakfast brought together community and government leaders, including Congressman Bryan Steil and Lieutenant Governor Mandela Barnes, program participants and their families to discuss the matters relevant to individuals with special needs. Topics covered in this year's conversation included a proposal to increase minimum wage and the impact of internet access during COVID-19. Throughout the event, KAC program managers also provided updates on available services and how our team transitioned through recent challenges. 
Kenosha Awesome Cookies Goes Viral
In December, Voyage program participants voiced an interest in starting their own business together. As a result, Kenosha Awesome Cookies was born. Kenosha Awesome Cookies prepares and sells cookie baking kits, which cost 10 dollars and consist of one 32-ounce mason jar filled with the dry ingredients needed to make a delicious batch of cookies. Word about Voyage's new business venture quickly started spreading when Meghan Reistad from Racine & Me spoke with the cookie crew — and even more quickly when James Groh from TMJ4 visited KAC to get a closer look at the action. Orders for more than 500 cookie baking kits came in almost overnight! Shortly after celebrating their milestone of having sold 200 jars, they were already celebrating having sold their thousandth jar!
What's next for Kenosha Awesome Cookies? Keep an eye out for the cookie crew at Kenosha HarborMarket this summer!
Keeping People Connected with a Community that Cares
All of us at KAC are hopeful that it won't be long before we can all safely enjoy the community together and in-person. In the meantime, we partnered with local businesses to bring a piece of our community to each of our program participants. KAC's Community Cares Packages included fun items, such as fitness gear, music equipment, art supplies and more. Each of these items were to be used in virtual activities led by our partners: Burn Boot Camp, Wisconsin Conservatory of Music, Hot Mess Studios, LLC., The Happiest Space and Racine Zoo. Our goal of connecting people with a community that cares became a reality as we delivered almost 400 care packages to the individuals we serve.
KAC's Community Employment Team Members Provide Job Insights
One of the many services KAC provides is Community Employment. Our Community Employment team's main goal is to help individuals with special needs evaluate personal strengths and match them with jobs that meet their goals to find long-term employment success. Michelle George, community employment specialist, finds it gratifying to help businesses connect with new team members but more importantly connect people with their dream jobs. In the past year, she has seen first-hand how businesses can innovate to keep individuals employed, and she believes these methods will only keep on growing.
Another Community Employment team member, Gary Eckstein, vocational outreach manager, has expertise that spans across many diverse industries. Outside of work at KAC, he also teaches criminal justice at Carthage College. His insights into the job market include helpful everyday self-care tips, like the importance of maintaining your physical and emotional well-being. Taking care of yourself at home and at work is important no matter what your job is!
With all of this, we want to thank you for helping to turn our mission of empowering people of all abilities into a reality by: volunteering, supporting our programs, attending events, spreading the word, making a donation or just by following along for the ride! For more updates, including invites to special events, program updates and more KAC happenings, subscribe to our e-newsletter by clicking here
What's something you have accomplished so far in 2021? Share it with us on Facebook (@kac.now)!