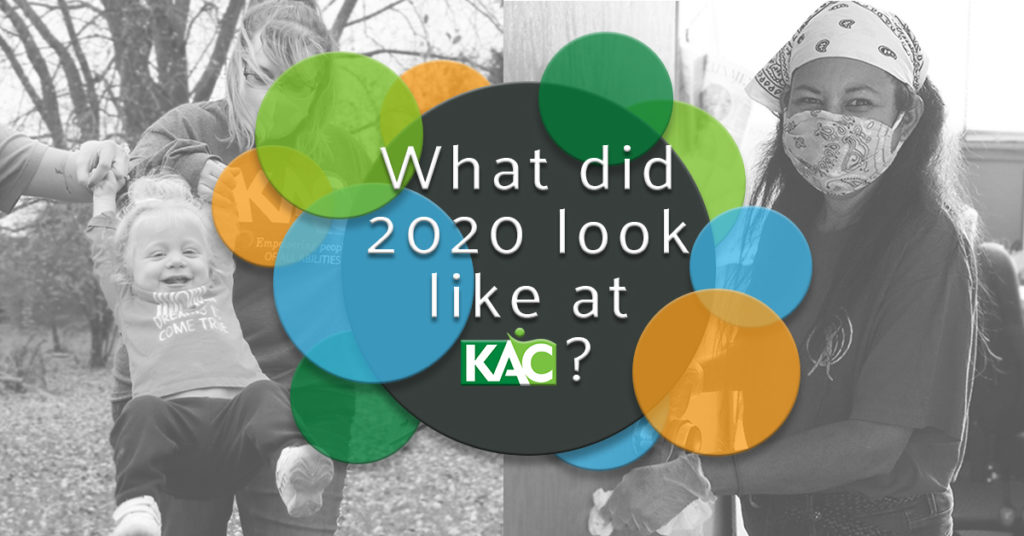 What did 2020 look like at KAC? One Year in Review
Today, we are proud to share with you how our community came together in 2020 to support adults and children with special needs. Check out the updates below to learn  how KAC adapted to COVID-19 safety measures to provide vital essential services.
Safer at Home
At the onset of quarantine, our team prepared and delivered KAC CARES Packages to our more than 500 program participants. This was a pivotal moment in our service offering as we set out to deliver love and hope to all of our KAC friends from a distance.
Then, the introduction of virtual programming improved and expanded our service offering. With the help of virtual meeting tools, we can all stay safely connected. This includes virtual home visits, therapy sessions, playgroups, day programming and more! While these days, we have resumed our Adult Services in-person and at a limited capacity, our program participants still enjoy being able to socialize with those who are safest at home.
In fact, even our fundraisers turned virtual with KAC's first-ever Virtual Concert Series. As soon as it is safe to do so, however, we will invite you to some of KAC's awesome events and in-person fundraisers.
Finding a new "normal"
During these times of loneliness and uncertainty, our entire team focused on other ways we can continue meeting our community's ongoing needs. Fortunately, many of these new strategies will remain in place long after COVID-19 is in our rearview mirror.
To begin, KAC's transportation team amped up safety measures. Individual rides and a robust cleaning schedule ensured the elderly and individuals with disabilities could travel safely to essential medical appointments and anywhere else they needed to go.
Some new offerings that launched in 2020 also include our drive-thru programming. It is so much fun to see and interact with our families again at monthly Early Head Start drive-thru socializations! 
Additionally, KAC's Early Intervention Program opened enrollment in KAC's Parent University. Parent U courses provide families with the tools needed to make sure their child has a smart beginning. So far, the courses are off to a great start!
Another exciting program expansion includes our growing partnership with the Kenosha County Aging & Disability Resource Center to offer grocery delivery and assistance. We've also continued working with KAFASI to offer onsite senior dining meal pickups as well as Meals on Wheels deliveries. We are proud to partner together to help our community stay safe.
What a year!
If we learned one thing in 2020, it's that the importance of a strong, supportive community became even more significant. We look forward to all that we will accomplish together in the upcoming year.
If you missed it, click here to watch our year in review video recap. What are you looking forward to in the near year? Share it with us on Facebook or in the comments below.