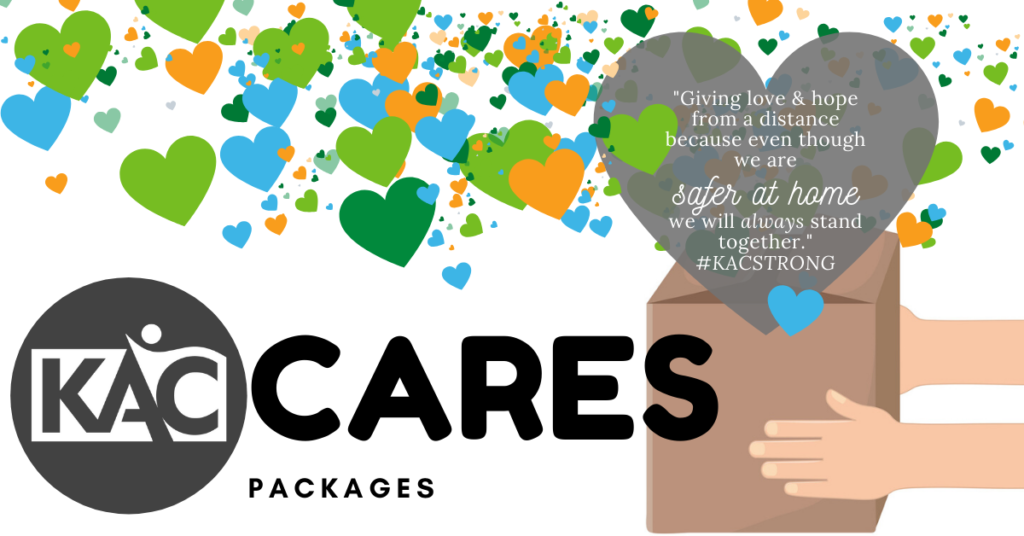 KAC CARES Packages: COVID-19 Fundraiser
On a normal day at KAC, laughter, smiles and friendship fill our halls all the way from the cafeteria to the production floor and even outside into the garden. Therapists and advocates visit with families, providing resources and comfort. Specialized drivers transport individuals to and from doctor visits, the grocery store, the movies or anywhere else they might want to go.
And that's just a glimpse into our team, our care.
Although our essential services remain open, COVID-19 has changed what a "normal day" looks like at KAC. Settling into these changes, however, isn't easy – for any of us. 
Right now, our clients feel alone. Their daily routines and in-person care have been replaced with isolation at home. We greatly miss seeing our friends and families every day too. That's why we are preparing to deliver roughly 500 care packages to all of our program participants.
Sending love and hope from distance,
because even though we are safer at home,
we will always stand together. #KACStrong
Help us make our vision of hope a reality, by donating to our KAC CARES Package initiative. Contributions will be spent directly on items to fill care packages such as art supplies, toys, and games.
For more information or to make a donation* to support KAC's efforts, visit us on Facebook or contact Marisa Markowski at (262) 658-9557 or mmarkowski@thekac.com.
*Donations can also be made online at https://www.thekac.com/donate/. Please note, KAC pays a 2.2% fee on all PayPal transactions. Consider making your donation via Facebook to maximize your contribution.