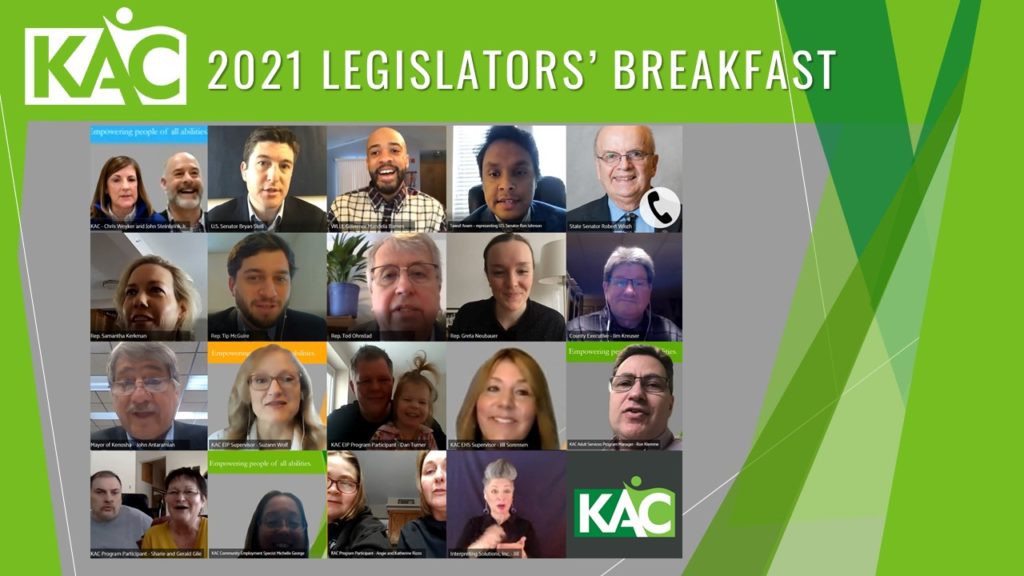 2021 Legislators' Breakfast Recap
Just a few weeks ago, our community came together at KAC's annual Legislators' Breakfast to discuss the matters impacting individuals with special needs. The event was held virtually due to COVID-19 safety measures, but still, roughly 80 attendees joined the conversation via the designated Zoom Webinar and Facebook Live stream.
Kenosha Achievement Center is impacted through all government sectors: city, county, state and federal, which is why this event holds such importance. Here's a recap of the event, including legislative priorities and updates on KAC's current service offering. This year's special guests and panelists covered a lot of valuable information, including:
Congressman Bryan Steil

focused on the 14C waiver, which provides a special minimum wage to workers with disabilities. The 14C waiver can help ensure individuals with disabilities can continue working in the environment they are currently in as the debate surrounding raising the minimum wage continues.

Lieutenant Governor Mandela Barnes

detailed the governor's "people-focused" budget, including investments in the long-term care workforce and rate increases for personal care workers.

Tawsif Anam,

representing

Senator Ron Johnson's

office, highlighted Ron Johnson's overall mission to "help people" as they work to provide the best possible services to Wisconistes.

WI State Senator Robert Wirch

discussed the importance of demanding an increase in minimum wage to address the income inequality seen across the country as well as focusing on increasing the budget for direct care money to ensure the highest quality care and providers.

Representative Samantha Kerkman

(61st District) shared stories of a family member who receives services similar to what KAC provides and stressed the impact that quality care can have on an individual and their families.

Representative Tip McGuire

(62nd District) stressed how the caregiver shortage is a critical issue that has been discussed in many avenues and discussed enhanced services for individuals with special needs transitioning from post-secondary schooling to the workforce.

Representative Tod Ohnstad

(65th District) serves on the Labor and Integrated Employment Committee and spoke to the significance of KAC's employment services, which take place onsite and out in the community.

Representative Greta Neubauer

(66th District) noted her and her colleague's focus on recovering and solving challenges directly related to the COVID-19 pandemic in order to help individuals of all abilities return back to their "normal" routines as soon as possible.

Kenosha County Executive Jim Kreuse

r detailed Kenosha's largest priority — mass vaccination.

John Antaramian, City of Kenosha Mayor

, described the city's plans to increase internet accessibility in the next three years. 
Click here to view KAC's legislative priorities and things to watch which impact our community.
Again, we'd like to extend a special thank you to our special guests and panelists. We know how extensive legislative conversations can get, so thank you for providing insights into today's priorities.
KAC has been a leader of change in the Kenosha community since 1964 and at the event, we also provided a glimpse into the impact of our services as well as how our program offering has changed in the past year.
Children Services
Every child can be successful in their own way. That's why KAC's Early Intervention and Early Head Start teams work together with children and their families to meet developmental milestones.
KAC's Early Intervention Program (EIP) annually serves roughly 400 infants and toddlers who have either a 25 percent delay in one developmental area or have a condition that is known to cause a developmental delay. Our team provides an array of developmental services: occupational, speech and physical therapies and special education. Dan Turner, an EIP parent, shared his experience with KAC, including how his daughter, Dani, continues to grow and meet every goal put in front of her. Dani was a complicated case for doctors — she had seizures, and there was a chance she wouldn't even be able to swallow. Now, she attends school four days a week. The foundation KAC's team of therapists and experts laid for the Turner's eased the entire family into success.
"If there's something that we've learned in providing services to people with disabilities, it's let's not decide what the ceiling is," says Chris Weyker, chief executive office of KAC. "Let's know that people can achieve their dreams if given the right opportunity."
Additionally, KAC has been the exclusive provider of Early Head Start programs for Kenosha county for 21 years, serving 125 children annually. 20 percent of the children served have a disability, so KAC's Children Services teams work closely together to meet the needs of all the families in our community. Our team looks to legislators to continue funding high-quality early childhood care and education programs. There is a proven 13 percent return on investment, highlighting the positive effects supportive services can have on children and their families.
Adult Services
The core of KAC's Adult Services is increasing independence through community involvement, socialization and developing life skills. Two primary service offerings include Day Program and Community Employment.
Currently, KAC's Day Program is operating virtually and with limited in-person attendance. Gerald Giles, Adult Services program participant, and Sherie Giles, Gerald's sister and full-time caregiver, shared their KAC story. Gerald has been benefiting from KAC's services for more than 39 years. His favorite part is spending time outside and attending community outings. He also participates in pre-employment services. Since the onset of COVID-19 safety measures, Gerald has greatly enjoyed the opportunity to stay connected to KAC virtually. 
"The Zooms this year have been absolutely wonderful," says Sherie. "We really hope this becomes a permanent thing. Due to health issues, a lot of times Ger isn't able to come in, due to coughing, so to have those Zooms — they have been our highlight."
An upcoming and ongoing concern, however, is the potential for managed care organizations to ask to reduce the level of services required. Now that many individuals with special needs have stayed safer at home for so long, care organizations might start advocating for lesser services, when in reality, full-time care continues to ensure the highest quality of life possible.
Last year, KAC's Community Employment team helped 32 individuals find employment, and 66 percent of those have reached success, which is defined as 90 days on the job. Katherine Rizzo, Community Employment program participant, and her mom, Angie, shared their KAC story too. Katherine actually began receiving KAC services as a child in the Birth to Three program. Now, however, Katherine works at Festival Foods, and Michelle George, community employment specialist, provides onsite training and support. While there was a brief absence of work at the start of COVID-19 safety measures, Katherine is now back to work. She wears a mask, social distances, and still enjoys helping customers and elbow-bumping her coworkers!
One change that has been consistent across KAC's Children and Adult Services is the implementation of virtual programming. Even once COVID-19 is in our rearview mirrors, we all see this as a permanent service offering at KAC as it has greatly helped our team stay connected with our community.
Community Partnerships
KAC thrives because of its positive relationships and partnerships with our community. Here's a look at just a few of them:
KAC's transportation team helps provide transportation to the Boys & Girls Club after school program.

KAC provides Sleep in Heavenly Peace with space for storage and distribution.

Our long-standing partnership with KAFASI continues to help provide seniors with healthy, high-quality meals.

Just last year, we helped launch a grocery delivery assistance program with the Kenosha ADRC.
We are already looking forward to continuing this conversation throughout the year as we work together to meet our community's ongoing needs. To join this critical conversation and to view this year's event in full, click here to view the video on Facebook. Then, leave your thoughts, questions or concerns in the comments to keep the conversation going.