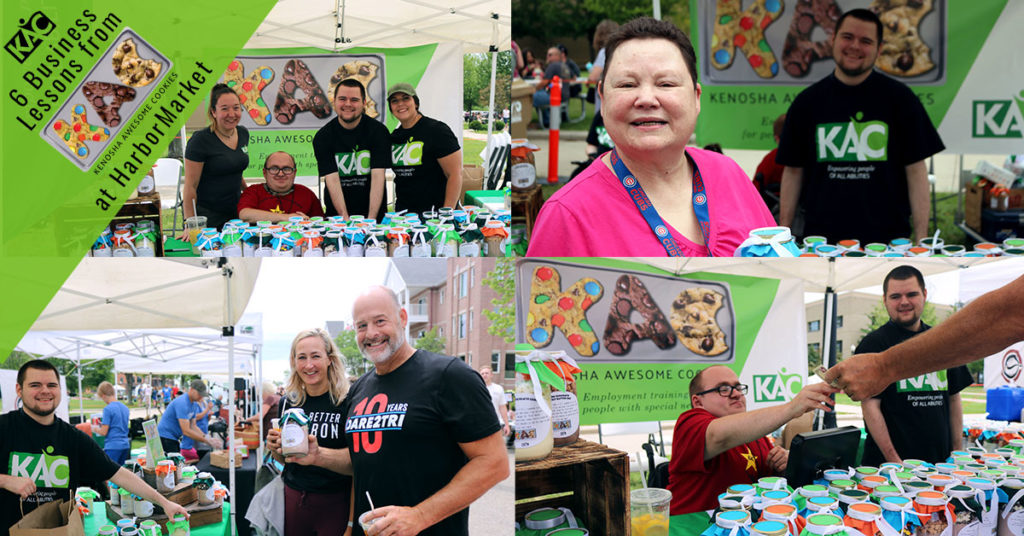 6 Business Lessons from Kenosha Awesome Cookies at HarborMarket
One of the biggest excitements about starting a new project is working through the ups and downs, and finding lessons along the way. The program participants behind Kenosha Awesome Cookies have learned so much since starting their cookie baking kit project in December.
This summer, there was even more to learn as the team prepared to sell their handmade cookie baking kits at Kenosha HarborMarket. Keep reading to check out the six business lessons KAC's cookie crew has learned throughout the process.
1. Being outspoken is challenging, but friendliness goes a long way.
If you've ever been to Kenosha HarborMarket, you know the droves of community members and out-of-towners who come to check out all things local. From behind the booth, there's so many potential customers to meet and talk to, which can be pretty intimidating. 
"I've learned to speak more to people, like to customers," says Sadie Hubbard, Kenosha Awesome Cookies co-founder. "Because I am shy."

The cookie crew quickly learned that by being outspoken, they could attract more customers to their booth. Even just waving "Hi!" to those walking by helped engage HarborMarket goers and created a friendly environment. This helped to keep sales growing all day.

2. Awareness is key.
After launching Kenosha Awesome Cookies in December, word got out quickly when Meghan Reistad from Racine & Me spoke with the cookie crew — and even more quickly when James Groh from TMJ4 visited KAC to get a closer look at the action. Orders for more than 500 cookie baking kits came in almost overnight!
Keeping up with the momentum, the cookie crew was sure to keep spreading awareness of Kenosha Awesome Cookies by including flyers with each purchase. By doing so, they hope their handmade cookie baking kits will be the first thing to come to customers' minds when thinking about gift ideas.

3. Teamwork really does make the dream work.
When it comes to scheduling shifts and dividing up tasks, the cookie crew all agrees, it's easier when there's more hands on deck.
"I was the only one there," says Collin Buggs, co-founder at Kenosha Awesome Cookies. "I was there until it ended and helped clean up."
Dividing up who was the spokesperson, cash handler, card reader and packager helped make processing orders more efficient. Going forward, the team will make sure that there are enough people to continue this same system, working together to make managing their business project easier. 
4. There's no such thing as too much preparation.

Brainstorming possible challenges helped the team prepare for what's to come. From their first appearance at Kenosha HarborMarket to their last, the cookie crew only got more prepared. The team now knows that when they come prepared with the essentials, like plenty of sunscreen, snacks, water and other ways to stay cool, they can better keep their focus on making sure customers are happy.
5. The customer always comes first.
On particularly sunny days at Kenosha HarborMarket, the chocolate inside cookie baking kits started melting! The cookie crew, however, didn't let that shining sun rain on their parade. By sorting jars and keeping some product shaded, the team ensured that customers' needs always came first and were receiving the best quality cookie baking kits possible. They just might have had to take some defective product back to the taste-testing kitchen afterwards.
6. Technology offers smart business solutions.
Cash is classic but by accepting credit transactions, the cookie crew was able to process more sales.

"I've been a cashier at Target for four years," says Dennis Jasewicz, co-founder at Kenosha Awesome Cookies. "But the card reader, Kourtney showed me how to do that. That was something new."

Learning new technology is helping the founders of Kenosha Awesome Cookies find new solutions and continue growing their project.
Don't miss your last chance to catch the Kenosha Awesome Cookies at Kenosha HarborMarket this Saturday, September 18 from 9 a.m. to 2 p.m. We hope to see you there!
Place your order today!
If you are unable to visit us at Kenosha HarborMarket, you can still satisfy your sweet tooth. To place your order with Kenosha Awesome Cookies, click here to download the official order form. Then, fill in your preferences and send it back to the cookie crew at kenoawesomecookies@thekac.com.
What was the last new project you started? Did you learn along the way? Share your business lessons with us on Facebook!