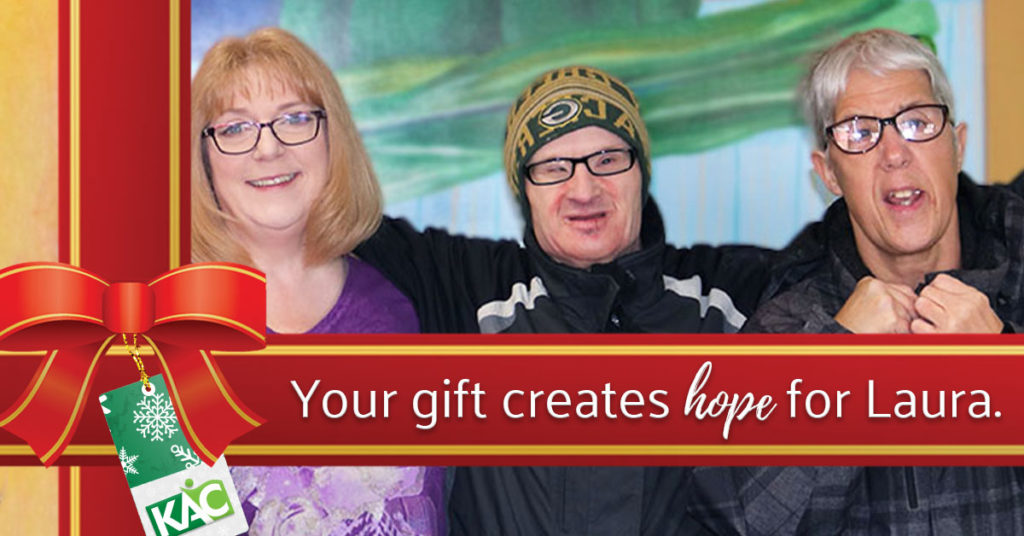 Meet KAC: Laura and Adult Services
Kenosha Achievement Center is a bustle of activity, providing various Adult Services and other resources to individuals with disabilities in our community. At KAC, every day is filled with laughter, learning, smiles and friendship. Laura, a KAC Adult Services program participant, is just one individual who fills our halls, and our hearts, with happiness.
Laura has been involved at KAC for more than 35 years. Like most things, our program offering has changed since then. That's because our team continuously collaborates to reimagine our services and best meet the ongoing needs of our community. The resources and programs we provide, however, still remain an integral part of Laura's day-to-day life. And after all these years, we're like family!
Due to COVID-19, KAC is currently open for in-person services at a limited capacity. In a time where many of us feel isolated, KAC provides the opportunity to safely connect and socialize. Laura enjoys being able to get away from her group home to work and interact with her peers.
One of Laura's favorite jobs within KAC's Pre-Employment Services includes packaging L bracket assembly tools for Dakota Closets. She successfully sorts small parts like screws and anchors into baggies so consumers can easily use them to assemble their closets and shelves.
It's not all about working hard though. Laura also participates in KAC's Day Program. Here she enjoys activities like creating her famous homemade cards for her loved ones as well as other crafts. Recently, we introduced an adaptable fitness program, which Laura also participates in. It's true that it's more fun to exercise and stay healthy with friends!
"Laura and many of our other program participants enjoy Kenosha Achievement Center for a variety of different resources," says Ron Klemme, KAC adult program manager. "Participants may utilize Care-A-Van to get to KAC to take part in our pre-employment or day program where they can spend the day in a variety of activities focused on gaining work skills, volunteering and accessing the community to build confidence and independence. We work with each person to create an individualized success plan that helps each program participant thrive."
Outside of KAC, Laura likes to stay active by bowling with her family. When she's not spending time with her sister, great-nieces and nephews, and other family members, she can likely be found watching The Waltons on TV. Laura's family is especially important to her, and in fact, her family got involved at KAC because of her.
As a teen, Michelle George, Laura's niece, started volunteering at KAC. Now, she is the community employment specialist. Their high-spirited relationship inside and outside of KAC makes for some great memories. Michelle notes how Laura's lively character often leaves a lasting impression.
"Laura knows everybody," says Michelle. "We'll be out at the grocery store, and people will stop her to say, 'Hello!' because they recognize her from her involvement with KAC."
Plus, anybody who knows Laura, knows what happens when it comes time to take a picture. Laura strays away from the usual saying of "Cheese!" before the camera flash goes off. Instead, she exclaims, "Cheeseburgers," which just makes everyone's smile that much bigger.
Your gift creates hope for Laura.
Your gift ensures that adults with special needs can receive the support they need to thrive in our community — today, and tomorrow.
Keep following along right here on KAC's blog or visit us on Facebook to read more stories from our program participants and their families.
To make a donation today, please click here. Thank you.
When we stand together, we are #KACSTRONG.