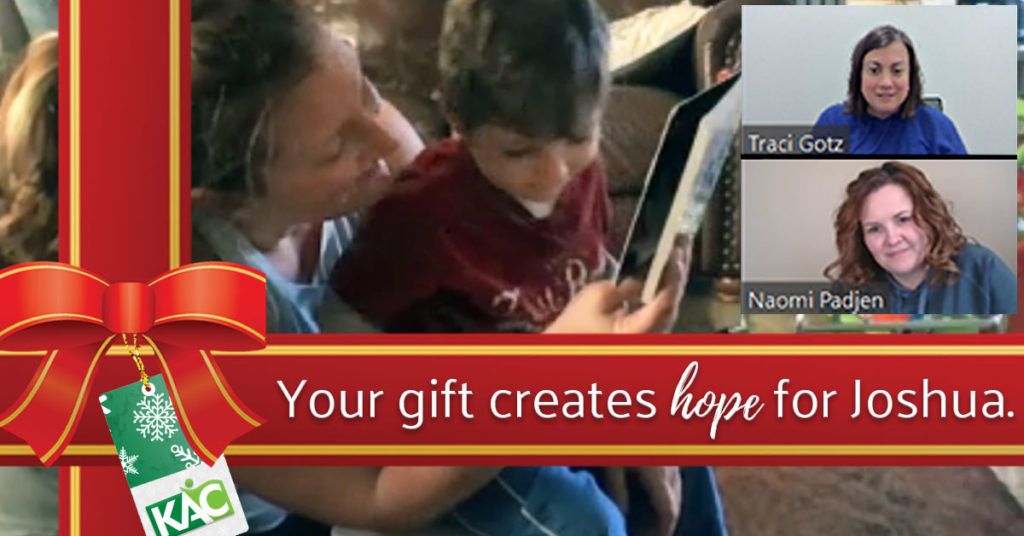 Meet KAC: Joshua & the Burnett Family
From first-time parents, including the Ciecko family, to full houses like the Burnett's, Kenosha Achievement Center provides child development services to children and their family so they can reach success together.
Shelly and Daniel Burnett are aware that parenthood isn't free of challenges. Joshua is their fifth child of six children. He is also, however, their first child with special needs: the result of a large chromosomal deletion. Because of its rarity, specialists can only make predictions and cannot provide exact answers. Navigating Joshua's anticipated child development along with the unexpected medical and developmental concerns has undoubtedly offered its own challenges.
When Joshua Burnett was born, he stayed in the NICU until he was six weeks old. Since then, and through the known and unknown, our Early Intervention Program (EIP) has supported Joshua and the Burnett family every step of the way.
"It's just a world you never realize exists until your thrust into it," says Shelly, EIP parent. "I always like to joke that it's all the things you never knew, you never knew."
Despite the challenges, the Burnett family do their best to keep a positive attitude. Joshua is still delayed from where his peers might be, but for him, he has grown exponentially. As a baby, Joshua was unengaged. He didn't look at anybody or follow movement. Now, as a 2.5-year-old, he developed a curiosity for the world around him and is becoming more aware of his surroundings as he explores and learns. When Joshua plays games, laughs and interacts with his siblings, the Burnett household is filled with joy.
With EIP services, each family member can play a vital role. During standard home visits, our team of service coordinators and therapists teach the entire family how to incorporate therapy techniques into their everyday routine. This is important because when our team heads home, the child's parents and siblings can continue working with them to help meet new milestones. For example, Joshua has recently been on the move and uses a reverse walker for assistance. This is a great achievement for Joshua, and his family helped and supported him in getting there. 
"KAC's motto is empowering people of all abilities," says Traci Gotz, KAC physical therapist. "We think about that a lot with the kiddos that we see or our older clients, but I feel like I am really empowering the parents that I have, and the families that I have too, to help make their parenting experience the best possible that it can be."
These days, KAC's services look different — therapy sessions and home visits are primarily conducted virtually. Still, our team remains dedicated to helping children and their family grow together.  Fortunately, Joshua benefits from the increased safety measures in our community. He has not been hospitalized since the onset of nationwide COVID-19 safety measures.
Our team is proud of Joshua's growth, and we look forward to continuing to support him and his family as they prepare for kindergarten.
Check it out! To watch Joshua's video showcase from 2019, click here.
Your gift creates hope for Joshua.
Your gift ensures that children in our community can receive the support they need to grow and meet new milestones — today, and tomorrow.
There's more Meet KAC Showcases to come! Follow along right here on KAC's blog or visit us on Facebook to read the stories from our program participants and their families.
To make a donation today, please click here. Thank you.
When we stand together, we are #KACSTRONG.