Kenosha Awesome Cookies Returns to Kenosha Harbor Market
It's been an exciting year kicking off Kenosha Awesome Cookies as KAC's employment training program.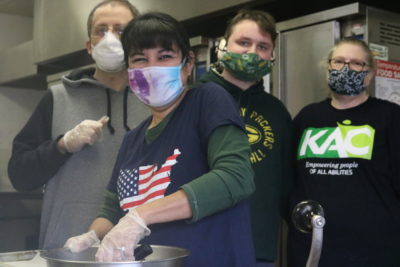 "We've had great success in the pilot year of the program," says Kourtney Bilotta, KAC's Employment Training Manager.  "Clients are working as a team to meet daily jar production quotas so we are fully stocked for events with our community partners."  In addition to production, clients are working on making change with money, understanding how to dress for different environments and brushing up on their customer service skills."
They won't have long to wait before they have the opportunity to flaunt these new skills.  Cookie kits are currently available at both Kenosha locations of Stinebrink's Piggly Wiggly and clients make a point to head to the stores and interact with their customers.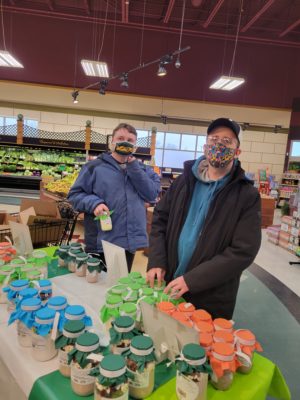 The cookie crew is also busy with preparations to sell their product at the Kenosha Harbor Market this summer.  After the success of last year everyone is excited to once again participate in the popular market.
Kenosha Harbor Market Executive Director Andrea Forgianni is equally excited for Kenosha Awesome Cookies to return.  "We are thrilled to welcome the Kenosha Achievement Center back for our 20th outdoor season. Their Kenosha Awesome Cookies project was well received last year, and will no doubt be again this year."
Kenosha Awesome Cookies will be at the Harbor Market from 9:00 – 1:00 pm on June 4, July 9, and August 6.
Each cookie kit contains the dry ingredients needed to make a batch of delicious cookies.  Four flavors are available, including white chocolate lemon, triple chocolate chip, dark chocolate peanut butter and m&m.   Each flavor is available in two sizes;  a 32oz jar which yields two dozen cookies for $10 or a 16oz jar which yields a dozen cookies for $6.50