Kenosha Awesome Cookies Becomes KAC's Employment Training Program
Kenosha Achievement Center (KAC) is excited to celebrate the one-year anniversary of Kenosha Awesome Cookies!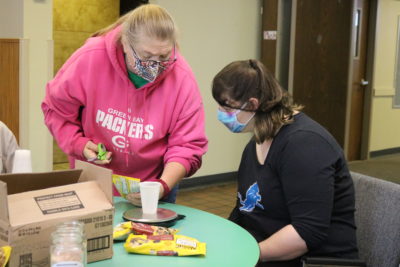 In December of 2020, Kenosha Awesome Cookies began with the intent for participants to learn basic entrepreneurial skills through a small-scale, cookie kit company simulation.  The idea was to sell enough to friends and family to fund a fun activity of their choice. The project gained media traction and community interest skyrocketed. Local businesses reached out to be host sites to sell cookie kits and demand dramatically increased.  Participants had their hands full building up stock!
Local businesses reached out to sell cookie kits at their locations and participants honed their salesmanship at the Kenosha Harbor Farmers Market this past summer.
The cookie crew had their hands full completing orders and building up stock!
What started as a short-term learning experience has transformed into the cornerstone of KAC's employment training program.  The program offers people with disabilities the opportunity to gain the skills and confidence they need to get jobs in the community. The program includes instruction and activities to enhance soft skills like communication, networking and teamwork. Kenosha Awesome Cookies business simulation allows participants to practice and grow these skills on a regular basis.  Other important milestones for participants include creating resumes, identifying possible jobs (finding relevant job openings, looking through job postings) and completing the application process and learning how to navigate available transportation options.  The anticipated outcome upon completion of the program is for participants to be ready for employment in the community.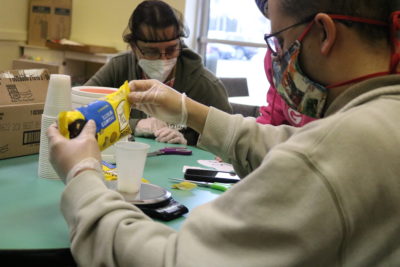 You can help support the program by purchasing a hand-made cookie baking kit.  Each kit contains the dry ingredients needed to make a batch of cookies. Available flavors are Dark Chocolate Peanut Butter, M&M, White Chocolate Lemon, and Triple Chocolate Chip, 32-ounce jars (two dozen cookies) for $10/jar or 16-oz jars (one dozen cookies) for $6.50/jar.
Click HERE for the order form and then contact the cookie crew directly at kenoawesomecookies@thekac.com  or call 262-658-9500.