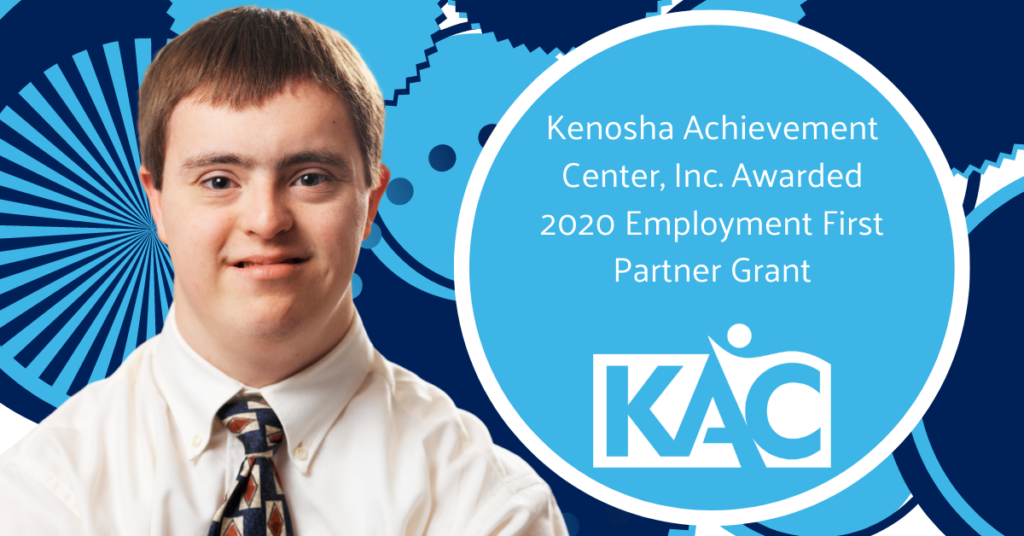 Kenosha Achievement Center, Inc. Awarded 2020 Employment First Partner Grant
October 20, 2020 (Madison, WI) – The Wisconsin Board for People with Developmental Disabilities (BPDD) has awarded a 2020 Employment First Partner grant to Kenosha Achievement Center, Inc. in Kenosha, WI.
Kenosha Achievement Center, Inc. plans to host three events to increase community-based job opportunities in the area by raising awareness among people with disabilities, their support systems and employers about the many benefits of employing people with intellectual and developmental disabilities.  These events will help build understanding and partnerships that lead to employment.
"BPDD's Employment First Partner grants are a great way to improve local workforce needs and increase community employment options for people with disabilities," said Beth Swedeen, BPDD Executive Director. "People know their own local communities and these grants provide the seed money and training to create real local changes that allow people with disabilities to more readily find employment in their communities, while supporting employers as they diversify their workforce."
In Wisconsin, over 84% of working aged adults without disabilities are employed while only about 34% of working aged adults with intellectual disabilities are employed (DisabilityStatistics.org). However, research also shows that most people with disabilities do, in fact, want to work.
BPDD has awarded grants to 9 organizations throughout the state to increase community, integrated employment opportunities for people with intellectual and developmental disabilities. The organizations will engage in a variety of grassroots community activities including: hosting legislative breakfasts, conducting media campaigns, doing presentations to local civic groups including Chambers of Commerce, and coordinating transition fairs for high school students and their families to learn about employment and services.
BPDD Employment First Partner Grants kick off in October to help celebrate National Disability Employment Awareness Month (NDEAM), an annual awareness campaign that takes place each October. In its 75th year, the purpose of NDEAM is to educate about disability employment issues and celebrate the many and varied contributions of America's workers with disabilities. This year's theme is "Increasing Access and Opportunity."
The Wisconsin Board for People with Developmental Disabilities is charged under the federal Developmental Disabilities Assistance and Bill of Rights Act with advocacy, capacity building, and systems change to improve self-determination, independence, productivity, and integration and inclusion in all facets of community life for people with developmental disabilities.