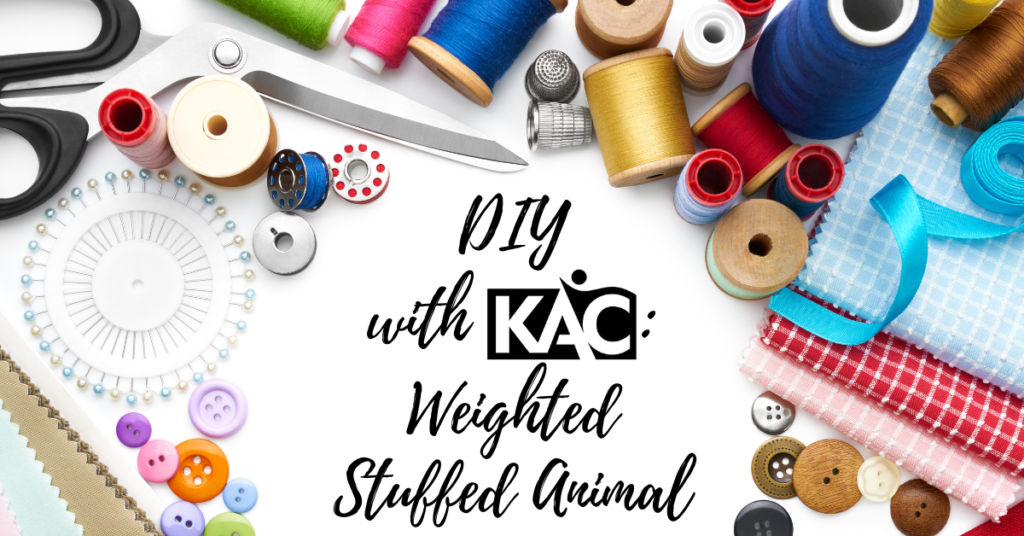 DIY with KAC: Weighted Stuffed Animal
Stuffed animals can make the best of friends for young children. Not to mention that they can offer other added benefits too! Similar to Calming Sensory Bottles, Weighted Stuffed Animals can help soothe overwhelming emotions. Try it out — follow KAC's DIY Weighted Stuffed Animal tutorial below to get started!
Materials:
Stuffed Animal (New or Already Beloved)

Sand

Quart-Size Resealable Bag

Sewing Kit (Thread/Needle)

Seam Ripper

Duct Tape

Scissors
Directions:
First, open the package of sand and pour it into the quart-size resealable bag. The quantity of sand used depends on how heavy you want your weighted stuffed animal to be.

Then, close the bag tightly and seal it shut with no air.

Next, using the duct tape, tape the bag's opening shut. In a similar way, tape along every seam. Cut the tape where its excess folds around the bag's corners.

Continue securing the bag by wrapping it in duct tape liberally on both sides.

Now, it's time to get sewing! Use the seam ripper to rip open the seam, which should be located on the back of your chosen stuffed animal.

Remove about half of the stuffing from the inside of your stuffed animal and insert the sandbag in its place.

Once the sandbag is in place, reinsert the stuffing. While reinserting, put in extra effort  to make sure the stuffing cushions the corners of the sandbag. You don't want any pointy corners poking out and causing any discomfort.

Lastly, sew up the seam using a thread suitable in color to blend right in.

Now, your Weighted Stuffed Animal is ready to comfort and love!
Plus, a weighted stuffed animal makes the perfect last-minute holiday gift for any child or loved one in your life. They're cute, cuddly, calming and sure to be a hit!
Watch KAC's full DIY video tutorial here.
Have you used or tried making a weighted stuffed animal? Let us know on Facebook or in the comments below.