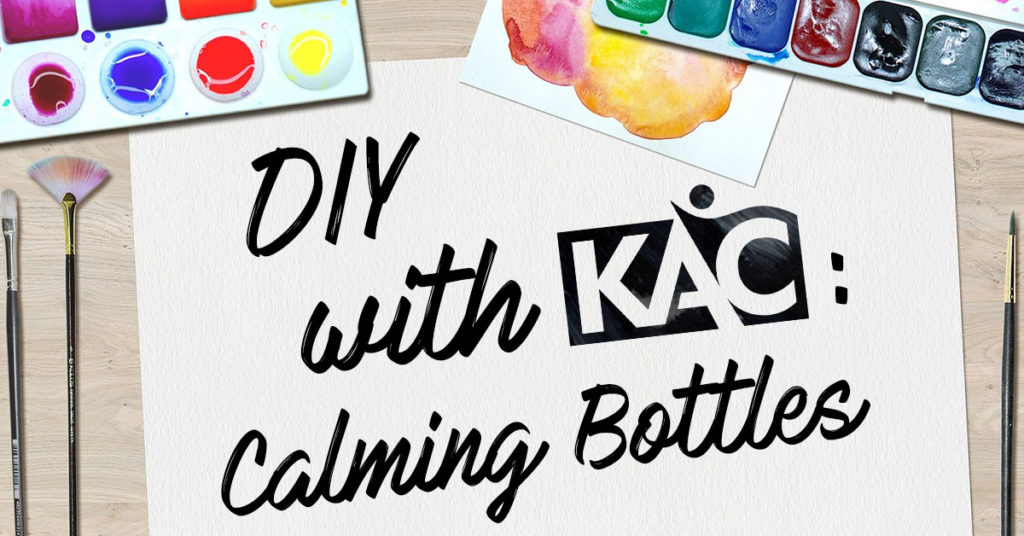 DIY with KAC: Calming Sensory Bottles
Every now and then, we could all use a little relaxation. When your child's emotions become too overwhelming, or when someone you care for needs some help calming down, give these Calming Sensory Bottles a try! Plus, they are a fun craft to create at home, so you can enjoy the time spent being creative together. Calming Sensory Bottles help soothe overwhelming emotions by providing a peaceful distraction. Just shake the bottle and admire the glitter and other add-ins as they settle. Follow the DIY with KAC tutorial below to check it out for yourself. 
Materials:
Beads

Food Coloring

Glitter

Glitter Glue

Plastic Bottles

Super Glue
Quantities needed for the above materials are dependent on how many bottles you would like to make as well as how you would like your new calming bottle to appear. The more glitter, glitter glue and beads you use, the more entertaining your bottle might be as it will take longer to settle. Keep in mind how the different colors might blend together as you combine them.
Directions:
First, fill the plastic bottle halfway with warm water.

Next, add the desired amount and color of glitter glue. We used roughly three ounces.

Secure the lid shut.

Shake the bottle until the glitter glue and water is well-mixed.

Reopen the bottle and add in the beads, glitter and food coloring to your liking. Remember, the more you add in, the longer your mixture will take to settle.

Fill the remainder of the bottle with warm water.

Shake the bottle until all of its contents are well-mixed.

Reopen the bottle. Dry off the lid and its opening. Super glue along the bottle's rim. Secure the bottle shut.

Lastly, enjoy your new Calming Sensory Bottle and take it on the go!
Our program participants of all ages love these Calming Sensory Bottles! Not only can they serve as a great tool for self-soothing but also can be quite entertaining no matter your mood. You can even make them travel-size for some fun and relaxation on the go.
Watch KAC's full DIY video tutorial here.
Have you tried making your own calming bottles? Let us know on Facebook or in the comments below.