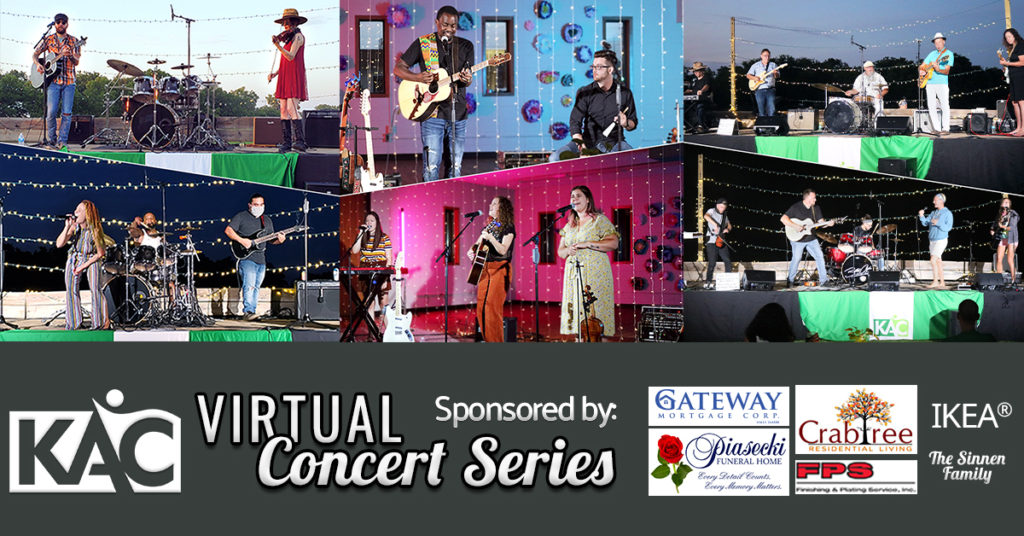 4 Memorable Moments from KAC's Virtual Concert Series
It's no secret. COVID-19 has resulted in changes to our daily operations. These changes have widened our funding gap with the cancellation of several in-person service offerings, programs, events and fundraisers. In fact, we won't be able to come together to celebrate at our annual gala this year. The first-ever KAC Virtual Concert Series, however, provided the opportunity for community members near and far to enjoy music from just some of Kenosha's best artists while showing their support for KAC's mission of empowering individuals of all abilities.
Here's four of our most memorable moments from the event!
1. Admiring the incredible performances from talented local musicians. 
Kenosha is a city full of talent. We are appreciative of the opportunity to showcase our community's talented musicians. From alternative folk, contemporary soul and rhythmic harmonies to jazz, blues and classic rock 'n roll, each unique performance offered magical moments of music and memories. Browse the full lineup below or click here for a short video recap.
8/8: Miss B Haven & Ghost in Color
8/15: Ben Mulwana & Violet Wilder
8/22: Frank Falduto and his Patio Daddi-o's & Betsy Ade and the Well-Known Strangers
8/29: 3AM Saints & Would You Kindly? (The last show in the series was canceled, but these artists still rock!)
2. Adapting to COVID-19 safety precautions to stay connected.
In April, we launched our KAC CARES Packages initiative where we delivered roughly 500 care packages to all of our program participants. Our message was, "Sending love and hope from a distance because even though we are safer at home, we will always stand together. #KACSTRONG."
Today, this still rings true as we seek new, safe ways to stay connected with our program participants and community. This year has been full of firsts, including the Virtual Concert Series, which allowed us to connect with our community in a way we never have before. All of us at KAC look forward to the positive changes we will experience as we adjust to this new "normal" together.

3. Offering a once-in-a-lifetime get together for select winners.
Each live show was attended by roughly ten guests. That's because as part of our Virtual Concert Series, we also offered the chance to win a private concert. Each week, one person was randomly selected to bring nine guests out to the live show. An exclusive IKEA® lounge was all set-up and ready for concert-goers to sit back, relax and enjoy the show. It was so much fun getting together with some of our donors. 

KAC donors enjoy music from local musicians at KAC's Virtual Concert series after winning the private concert giveaway.
"I was so excited to win a private, live concert because so many of my favorite festivals and performances have been cancelled this year due to COVID-19," says Jenna M., KAC donor and winner of the first private concert. "KAC's Concert Series offered my friends and I a fun, safe alternative to our typical plans. Plus, it was for a good cause!" We couldn't agree more, Jenna!
4. Experiencing the overwhelming support from our donors and community partners.
During challenging times, it is important to stand together. We saw this in action with the outpouring of support from our donors and community partners who made a contribution to help make our event and fundraiser a success. Thank you to everyone who donated to the event's Facebook Fundraiser, and a special thank you to the following Sponsors: Gateway Mortgage Corporation, Piasecki Funeral Home, Finish & Plating Services, Crabtree Residential Living, IKEA® and the Sinnen Family.

Did you miss the show? For more information on how you can check out the performances, contact Marisa Markowski at mmarkowski@thekac.com or (262) 658-9557.