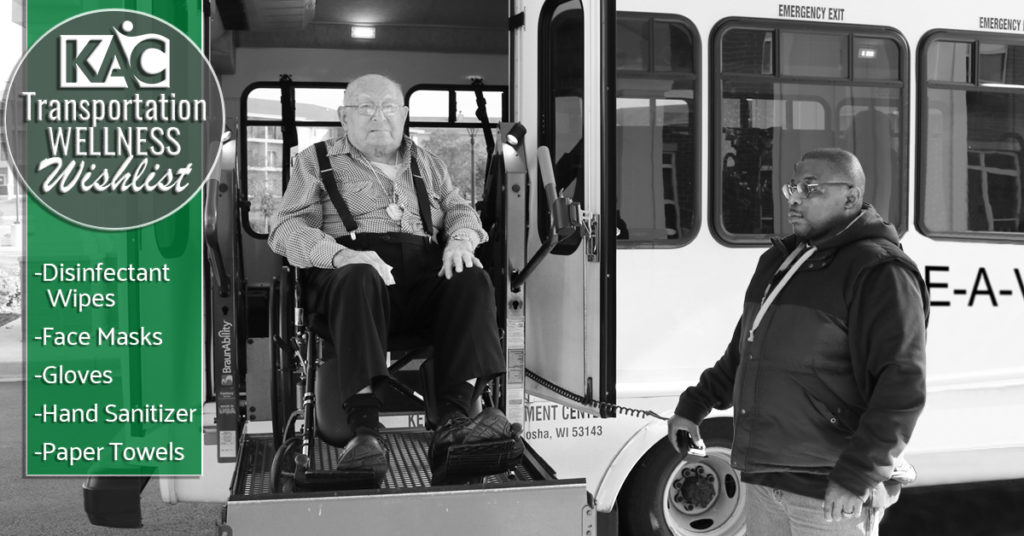 Help Keep KAC Rolling – Our Wellness Wishlist
KAC considers the health and safety of our employees, participants, and their families our priority. In regards to the COVID-19 pandemic, KAC remains open and we intend to provide our essential services, including Transportation Services, for as long as possible.
In 2019 alone, there were two thousand riders who traveled with KAC, totaling more than 101 thousand trips.
As of Wednesday, April 1, our Transportation Services are keeping our community rolling. Our team helps the elderly and individuals with disabilities travel safely to essential medical appointments and ensuring they can stock up on and shop for anything they might need during these difficult times.
KAC's hard-working drivers are dedicated to keeping passengers safe and well. That's why we are taking additional precautions as we continue providing these services. For example, in addition to our nightly cleanings and sanitation procedures, all drivers have been equipped with supply kits to maintain a clean and germ-free environment throughout their workday. We practice thorough cleaning methods between trips and offer passengers hand sanitizer upon pick-up. 
These precautions, however, come at a cost.
Your help makes all this possible.
You can support our team as we continue to safely provide the transportation our community depends on year-round by donating the following items:
Disinfectant wipes

Face masks

Gloves

Hand sanitizer

Paper towels
To make a donation and support KAC's mission of empowering individuals of all abilities, please visit: https://www.thekac.com/donate/ or call our front desk (Mon-Fri 8am-4pm) at 262-658-9500. Thank you in advance!
---
KAC is following recommendations from the CDC and working closely with the Kenosha County Division of Health. We will continue to monitor COVID-19 as it is constantly changing.