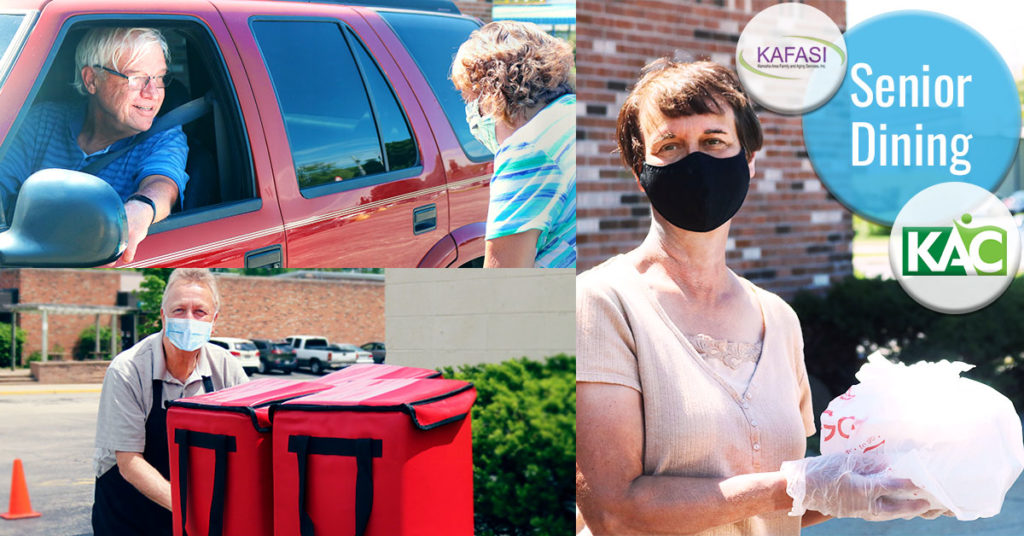 Check it out: Senior Dining Pickup Now Available at KAC
The kitchen timer dings, signaling a home-cooked meal is ready to enjoy. Yumm, let's dig in!
As many of us experienced during quarantine, there's great value to home-cooked meals. The warm feelings of nostalgia from a favorite recipe, aside from the downright tastiness, can spark joy during challenging times.
That's why all of us at Kenosha Achievement Center (KAC) are proud to partner with Kenosha Area Family and Aging Services (KAFASI) to cook and serve homestyle meals. Our team works hard to ensure the highest food quality possible with fresh ingredients, homestyle recipes and delectable variety. The best part? Meals can be picked up from KAC to be enjoyed from the safety and comfort of your own home. Together, we offer the enjoyment of a home-cooked meal with the convenience of takeout. 
Since the end of May, we've been serving roughly 30 community members weekly, and we want to serve YOU next. Dine with us to satisfy your appetite and make an impact.
Check out the September meal schedule below:
9/3: Chicken Pot Pie Casserole, Slow Roasted Pork/Cornbread Stuffing
9/10: Meatball Bomber, Balsamic Glazed Chicken
9/17: Lasagna, Lightly Breaded Oven Baked Chicken
9/24: Baked Spaghetti, Salisbury Steak
All entrees include additional sides, bread, fruit and a beverage. Participants receive two meals — one hot, ready-to-eat meal and one cold meal to heat and enjoy later. To view the complete menu, click here.
Meals are offered for a suggested donation of four dollars per meal (eight dollars per day, per person). Senior Dining Curbside Pickup is open to anyone 60 years and older and a spouse regardless of age. Reservations must be made by 10 a.m. Wednesday for Thursday lunch pickup.
For more information or to make your meal reservation, please contact Karla Treskow at (262) 658-3508 or ktreskow@kafasi.org.
Menu UPDATE(s):
To view the October Senior Dining menu, please click here.
To view the November Senior Dining menu, please click here.
To view the December Senior Dining menu, please click here.
To view the January 2021 Senior Dining menu, please click here.
Need a ride?
KAC's Transportation Services team is dedicated to helping elders and individuals with disabilities travel safely to wherever they may need to go within our community, including to and from KAC for Senior Dining Pickup. To learn more about how you or a loved one can catch a ride, click here.