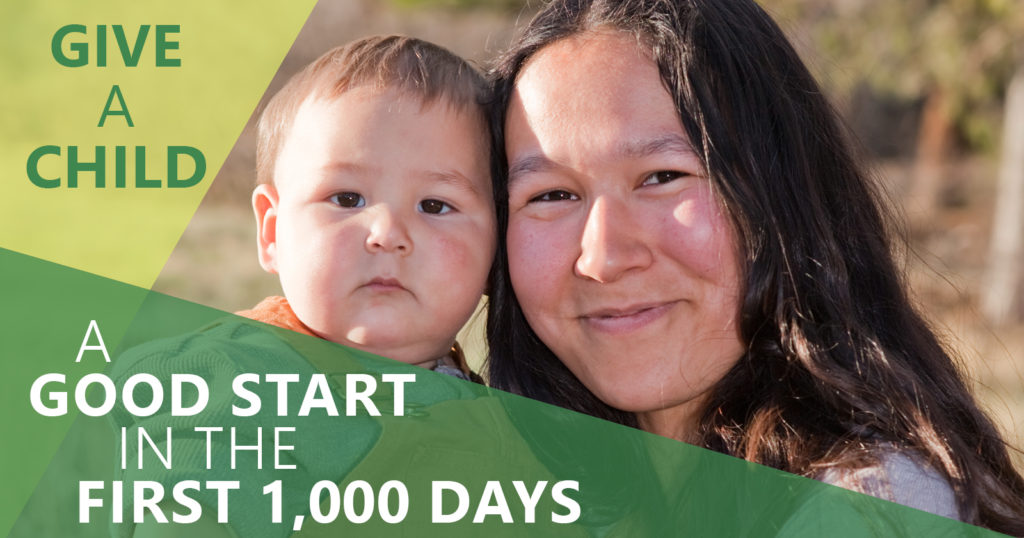 Early intervention: a good start in the first 1,000 days
Every child learns and grows at their own pace, but there are general milestones every child should meet as they develop how they play, learn, speak, act, and move. One of the most important things you can do to care for a child's health and growth is to track their developmental milestones and act early if you notice signs of a delay or disability.
What can you do if an infant or toddler shows signs of a delay or disability? Don't wait and see—schedule a well-child visit and ask about early intervention.
What is early intervention?
Early intervention is the term used to describe the services and supports that are available to infants and toddlers with developmental delays and disabilities and their families. It is a special education program that supports a child's development through support from a variety of trained and qualified staff.
The Birth to 3 Program is Wisconsin's early intervention special education program.
The Birth to 3 Program supports children with any types of delays, disabilities, or conditions. Your family partners with a team of professional service providers who can help with your specific needs. The team includes a:
Service coordinator.
Early childhood special education teacher.
Speech, occupational, and/or physical therapist.
Other professionals or service providers as necessary.
One of these professional service providers is the primary coach. The primary coach will be your main contact and use their expertise to help you and the child in learning and developing as the child grows. The primary coach will help you access other professionals on your team as needed to support your individualized plan.
What services are provided?
All services are based on the individual goals and desired outcomes of your family and child. You might receive special education and instruction; medical and health services' physical, occupational, and speech therapy; hearing and vision services; assistive technology; service coordination; or other services that help you better understand the child and improve their development.
Examples of services include:
A speech and language pathologist helps you learn ways for your child to communicate their wants and needs when words are difficult to understand, or they become frustrated when you do not know what they want. The pathologist might show you ways to expand your child's diet when they have difficulty eating certain foods, or it is a challenge to sit down for a meal together.
An occupational therapist helps you position the child in their car seat so they can enjoy a car ride and visit a family friend. They show you how to use songs to engage the child in the car and give you tips to practice throughout the week that make going to the grocery store a little easier for both you and the child.
A physical therapist helps the child use a gait trainer so they can go on a walk with you and other members of the family. They might help you prepare them for the walk, show you how to get them out the door and onto the sidewalk, and suggest strategies for keeping an eye on your other child who is riding a bike.
Where does early intervention happen?
Learning and growing happens in the places your family spends the most time. Your home, a child care location, and other places you spend time in regularly are part of your family and child's natural environment. Birth to 3 Program services are provided in natural environments so the child will develop new skills in the places they will use them.
How can I enroll?
Our Early Intervention team is ready to serve you. For more information contact Suzi Wolf, Early Intervention Program Coordinator at 262-658-9570 or click here.