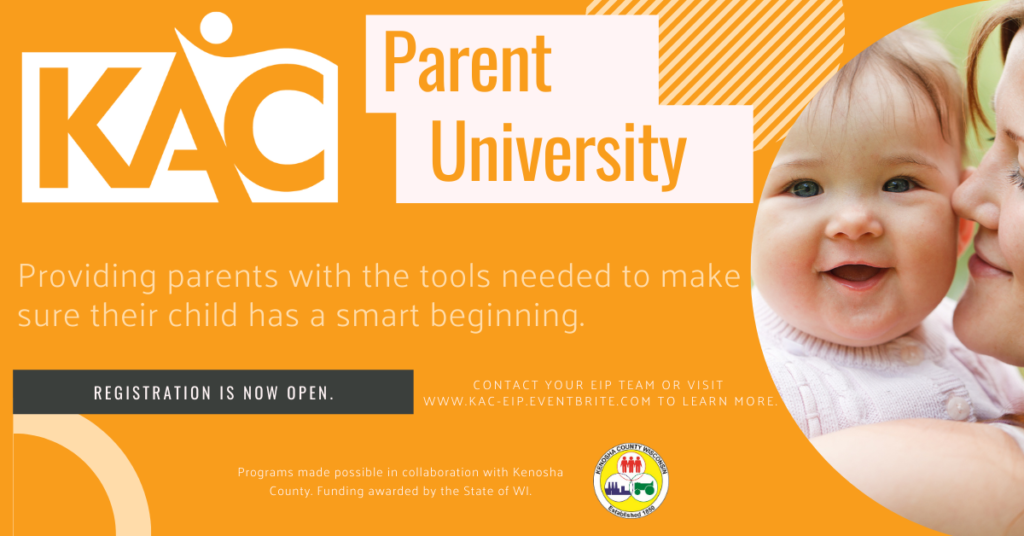 Enroll today: Parent University
EIP Kicks Off Parent University, Provides Resources for a Smart Beginning 
Join Kenosha Achievement Center's Parent U courses to learn more about how to help your child succeed. Courses are designed to help your child develop preschool readiness skills, such as positive social interactions, communication, better management of their emotions and behaviors and a curiosity to learn.
Our goal is to provide parents with the tools needed to make sure their child has a smart beginning. Don't wait, check out the Fall '20 Courses below:
Mindful Parenting: Meditation and Movement
Learn how to be more present in your own life and with your child through different types of meditation and movement that can be done at home, work or anywhere you might be. Benefits to your child include: better self-control, increased positive moods and improved social skills. Course designed to help you to lower stress and enhance your overall health and wellness.
Parents interacting
with Infants (PIWI)
Playing together helps build confidence, competence and mutual enjoyment — maximize these opportunities. Learn more about the three elements of social-emotional wellness in children: experiencing, expressing and regulating emotions; forming close and secure relationships; the ability to explore and learn.
Staying Calm & Carrying On
Discover tips for managing the thoughts and feelings that come along with caring for children on top of day-to-day challenges. Receive the encouragement and support needed to find a balance in your everyday life.
HANEN Language
Learn practical strategies to help your children learn language naturally, including how to identify what motivates your child to interact with you, how to build learning language into your everyday routine and more. Three individual visits with a speech-language pathologist is included on top of virtual group sessions.
The Best Present is
Your Presence
Explore ways to be more present in caring for your children including how to guide them to learn to be more in the moment in an increasingly busy and distracting world.
Play University / PCIT
Rediscover your inner child! Play adds joy to life, relieves stress, supercharges learning and helps build new connections for kids and adults of all ages. Explore the benefits of play and learn how to maximize your child's early social-emotional development.
Plus, at the completion of each course, all participants will receive an activity bag or other wellness gift!
All of us at KAC are excited to collaborate with Kenosha County to offer Parent University (funding awarded by the State of WI). We look forward to learning and growing with you.
To learn more, contact your EIP team or click here to visit eventbrite for expanded course details, dates and how to enroll.
Please note, at this time, Parent University courses are only open to families currently enrolled in KAC's Early Intervention Program. Stay tuned for an announcement regarding expanded eligibility.