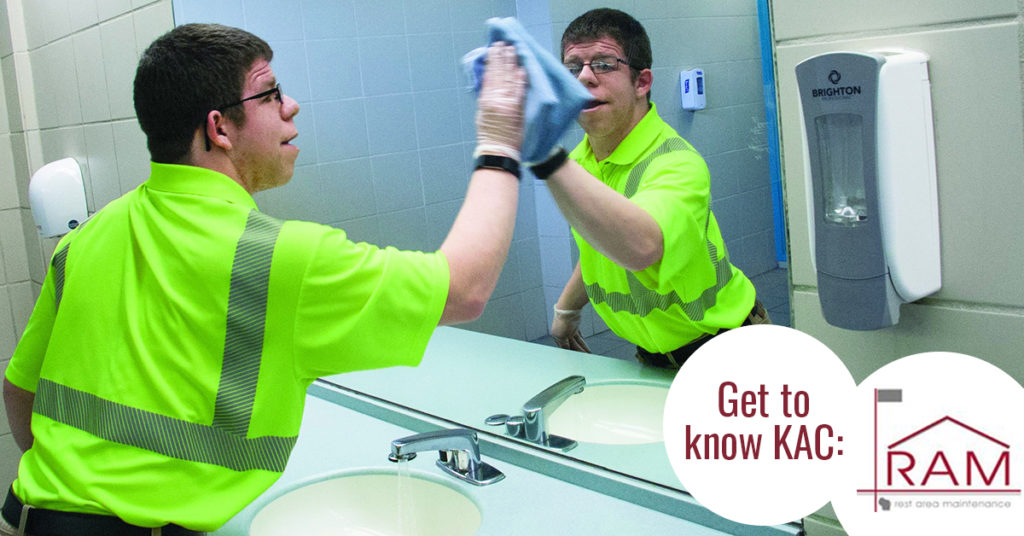 Get to Know KAC at Rest Area #26
Traveling from Illinois to Wisconsin on Interstate Highway 94, one might notice the historical "Welcome to Wisconsin" road sign. To get up close and personal, just stop by Pleasant Prairie's Rest Area #26. Visitors from near and far enjoy visiting to recharge on long drives and to learn more about Kenosha area must-sees. Here, KAC's janitorial and maintenance team is hard at work keeping its 28 acres and over a mile of sidewalks up to award-winning standards.
Since 1990, KAC has maintained this site in conjunction with Wisconsin's Department of Transportation Rest Area Maintenance Program (RAM). In addition to the day-to-day custodial and landscape care, our team also completes preventive maintenance, repairs and improvements. An electronic maintenance software helps keep track of these daily tasks and also provides real-time feedback to ensure we are completing the highest quality work possible.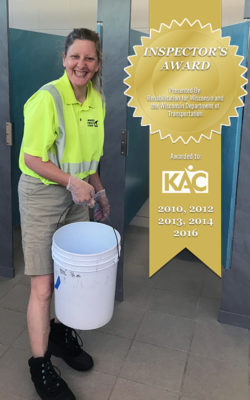 The rest area is an engaging, rewarding opportunity for individuals with special needs to experience community based work while remaining connected to the support and resources of KAC. Tasks vary greatly but can include tidying the bathrooms, clearing outside debris, wiping down windows and doors and much more. Employment at RAM helps individuals learn and improve both technical and soft skills by working together to accomplish exceptional work.
And when we say award-winning, we really mean it. Our work has been recognized with the Inspector's Award on multiple occasions for consistent high standards, responsiveness and overall team attitude.
The next time you're nearby, come in to say, "Hi!" and check it all out for yourself!
Beyond Rest Area #26, KAC partners with other locations to provide the same high-quality janitorial and maintenance work. Other sites you will find us at include South East Wisconsin State Patrol Safety & Weight Enforcement Facilities and the Kenosha National Guard Armory. We are proud of our team and the work they achieve day in and day out. Stay tuned for more inside looks at the work we complete.