Meet KAC: Why Denis has a bright future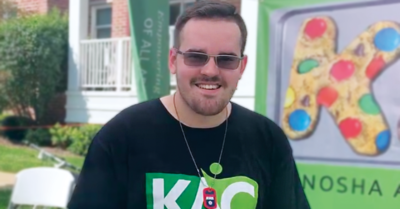 A future of possibility is all Denis wants.
Like most young people, Denis wanted a future filled with opportunity. He knew he had a lot to offer the world but kept getting in his own way. He has trouble thinking things through and as a result, is prone to making bad decisions. Job interviews weren't a problem for him but he struggled with the application process. He felt isolated and was self-conscious about approaching people. He wanted help but his pride kept him stuck.
There are many young people like Denis in your community.
Wasted dreams, talent, and potential.
Fortunately, Denis's mother encouraged him to come to KAC's Voyage Program for Young Adults. After only a short period of time he has become one of our many success stories. He received help with his resume and job application and will soon start a new job. Working with the Kenosha Awesome Cookies program developed his communication skills and confidence letting his natural gift for sales shine through. Most importantly, he now has a group of close friends. In his words, "This is a cool place to come."
Your generous donation helps Denis and many others like him reach their potential and live meaningful lives. Providing access to job training and placement services. A community of peers. Friendship and belonging.
Give now and invest in their future.
Make your donation here.
We will continue to update this space through the end of the year with stories about the many people KAC serves. Follow us on Facebook to receive notifications about new content.