Meet KAC: How Mike and Columba Found Love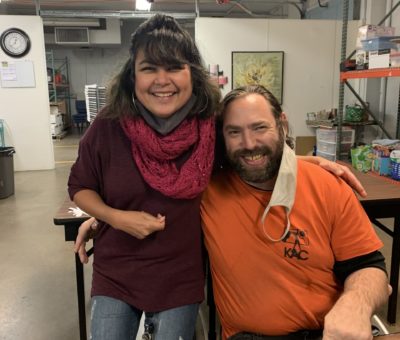 We are looking to the future. And that means a full life for every person with a disability.
Most of our lives hold meaning not only because of our work and accomplishments but because of our relationships. Friends, family, romantic partners. People with special needs are no different.
Mike and Columba arrived at KAC looking for meaningful work and a sense of belonging. They found much more. They knew each other as children in Chicago and were thrilled to get reacquainted at KAC. A couple since 2005, they are now engaged and looking forward to a future together.
Columa struggled with shyness which Mike has helped her overcome. Her circle has expanded to include his friends.
Mike likes being in the community for work but being at KAC on his off-days gives him a chance to spend more time with Columba.
He loves her smile. She loves his sense of humor. They bring out the best in each other. They are happy.
Isn't that what we all want?
People with disabilities are often isolated and lonely.
WE PROVIDE A PLACE WHERE THEY BELONG.
Adults attending KAC programs have a variety of resources and experiences available. Pre-employment training, volunteering and accessing community resources build confidence and independence. And at the heart of the programs is personal connection. Laughter, learning, smiles, and friendship. They may not all find love but they will find a place where they belong.
YOU CAN HELP OTHERS FIND CONNECTION
With your support, no person with a disability will be without personal connection.
It takes one loyal donor like you – not thousands of dollars – to create a full and meaningful life for people like Mike and Columba. Click here to make your donation now.
Check out KAC's blog and read more stories like Mike and Columba's. During the holiday season we will update with a new KAC success story every week. You can also visit us on Facebook to receive notifications when new stories are posted.