Meet KAC: Denis Finds Meaningful Work
Remember Denis?
Back in December, we introduced you to Denis as part of our Annual Fund Appeal.  You learned the story of how Denis came to KAC, developed confidence with Kenosha Awesome Cookies, and was working with our Employment Specialists, through a standing partnership with the Wisconsin Department of Workforce Development's Division of Vocational Rehabilitation, to find a job that suited his strengths and talents.
It has been six months since Denis started his job as a cashier at Festival Foods and there's no doubt he landed in the right place.  At previous jobs, the pace was much faster and he was expected to both scan and bag purchased items.  At Festival Foods, he works with someone who bags the groceries and offers suggestions and support as Denis scans the items.  Working as part of a team is one of his favorite parts of the job.
In fact, the people are what makes this job special.  Denis's coworkers enjoy working with him and look forward to their shared shifts.  They find him fun and easy to talk to in addition to being a valuable team member. Jessica Gerardin, Guest Services Manager says, "Denis exemplifies the culture of Festival Foods as he is hardworking, positive, and a reliable employee."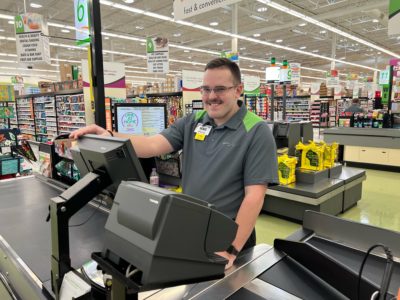 Denis is also a hit with the customers.  He was recently acknowledged by a guest for his pleasant demeanor, care with their groceries, and providing service with a smile.  His upbeat attitude and friendly approach to both coworkers and guests make him popular with everyone.
One of the most valuable lessons Denis has learned is how to advocate for himself.  He believes in always calling over a manager when he has a question.  This helps him execute his job well and his managers welcome his inquiries.  Gerardin praises Denis for this habit and describes him as an attentive, active listener both to store guests and his fellow team members.  This is a significant achievement for someone who struggled to approach people.
After his work with KAC, Denis has a bright future ahead of him.  As Gerardin says, "We look forward to continuing the growth of Denis within our company in addition to looking forward to him being an active part of our team for years to come." In the future, Denis sees moving to Guest Services or the stocking side of the store.  But for now, he likes where he is.  "It doesn't feel like work," he says of the welcoming atmosphere.  Can't beat that!