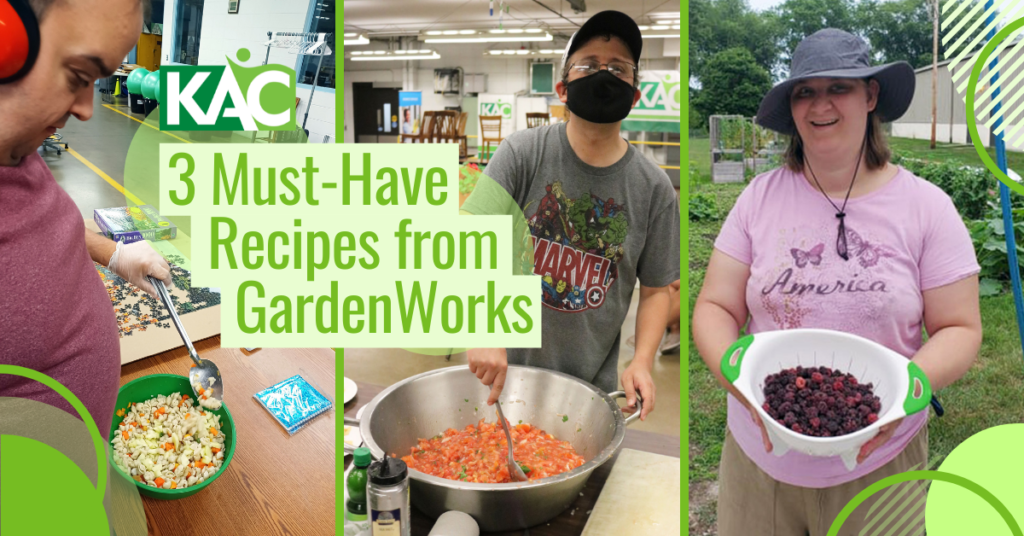 3 Must-Have Recipes from KAC GardenWorks
All of us at KAC agree — the best part about summer is making delicious food and snacks from homegrown ingredients. KAC's GardenWorks program participants work hard year-round planting, growing and harvesting fruits and veggies in KAC's garden. When it finally comes time to harvest, we all get to enjoy our favorite recipes. Check out our top three recipes below for some tasty inspiration for your next snack.
Pasta Salad
Pasta Salad is refreshing on any day — not just during summer. It's perfectly simple and simply delicious. Try it out! 
Ingredients:
1 pound dried pasta (spiral, corkscrew, macaroni or bowtie)
1 cup diced cucumber
1 cup diced green peppers
1 cup diced tomatoes
1 cup diced carrots
⅓ cup parsley or basil
3 cloves minced garlic
1 cup mozzarella cheese
1 (16 ounces) Italian salad dressing
1 tablespoon minced jalapeño (optional)
1 cup of any other vegetable of your choice (optional)
Directions:
Cook pasta according to directions on the package.

Chop the fresh veggies from your garden in ¼" or smaller pieces.

Combine pasta, veggies, cheese and Italian dressing in a large mixing bowl.

Serve chilled and enjoy!
Salsa
There are many different ways to make salsa, but here's how KAC's GardenWorks program participants enjoy it most.
Ingredients:
6 large tomatoes, diced
½ cup chopped onion
5 tablespoons cilantro
1 tablespoon minced jalapeño
3 teaspoons lime juice or roughly two limes
1 teaspoon kosher salt
2 garlic cloves, minced
Tortilla Chips (for serving)
Directions:
Dice or mince tomato, onion, jalapeño, cilantro and garlic into fine pieces.

Combine diced ingredients, excluding cilantro, into a serving bowl.

If using fresh limes, slice limes into quarters. Squeeze or pour lime juice with other ingredients. Stir together.

Garnish with cilantro.

Serve chilled with tortilla chips and enjoy!
Fruit Salad and Jam
Recipes including fruit offer just as much satisfying deliciousness as those with veggies. Fruit salad and jam can be made with any fruit grown in your garden. Some fruits we harvest at KAC include raspberries, blueberries, strawberries, plums, apples and more! For fruit salad just chop larger fruit into 1" pieces (leave small berries as is) and stir together. Top it off with lime juice or whipped cream for a sweet summer snack.
Our favorite homemade jams are raspberry and blueberry, but you can try making other flavors too. Cook five cups of fruit (small pieces), ½ cup sugar, two tablespoons lemon juice and a pinch of salt in a saucepan over medium heat. Mash the fruit into a chunky texture using a large fork. Bring your soon-to-be jam to a boil, stirring frequently, for about 20 minutes, or until it is thick. Once finished, transfer the jam into glass jars and cool.
The best part about these three recipes is that they can each be customized to meet your taste preferences. Like it spicy? Mix in some extra jalapeños or habanero. Not so sweet? Use less sugar. You know your garden and your taste buds best, so listen to them! Even the pickiest taste-testers can enjoy these recipes.
We hope you enjoy these summer recipes that KAC's GardenWorks and Adult Service program participants just can't get enough of — made from fresh produce from your garden!
What's your favorite recipe that includes garden-grown produce? Share it with us on Facebook!