Meet KAC: How Nate built confidence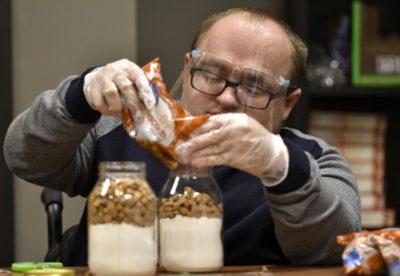 A disability shouldn't stand in the way of a dream.
Just like any young adult, Nate wants to be independent. For him this means work that uses his talents and friends who appreciate his sense of humor. But the physical limitations that require him to use a wheelchair and lack of self-confidence made the thought of a four-year college daunting. He obtained an associate's degree but that wasn't adequate for a job that would use his strong intellectual abilities.
The pandemic hit Nate especially hard. At the time, he was living in a group home he didn't like. Stuck at home for months, he was isolated from the world and his family. Like many young people, he sunk into depression.
This was not the life he dreamed of.
He longed to participate in society again. To use his intellectual abilities and love of writing. To make something of himself.
He longed for a strong friend group.
Your community is filled with young people like Nate. People who want and deserve a future of opportunity. They come to KAC every day.
We make their dreams come true.
When Nate came to KAC, his life changed.
He was part of creating Kenosha Awesome Cookies, helping design the logo and other promotional materials. His KAC friends are the closest he's ever had. With his KAC support network and new level of confidence, Nate enrolled at UW-Parkside where he will begin studying communications this winter. He has a bright future.
But what about the others? There are countless young people like Nate in our community who deserve to have their dreams come true.
Will you help them by making a gift today?
Click here to make a donation now. Thank you for your support.
Check this space to read more stories like Nate's. During the holiday season we will update with a new KAC success story every week. You can also visit us on Facebook to receive notifications when new stories are posted.